Who Was W.P. Wagner?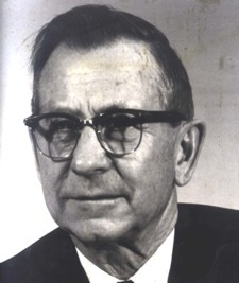 William Phillip Wagner was born May 1, 1899 to Amelia and Philip Wagner in Edmonton, Alberta. Riding on the first street car and attending the first movie was part of growing up while attending Queen's Avenue School during his formative years.
Mr. Wagner won a university scholarship while attending the new school called "Victoria" in spite of two paper routes, one in the early morning and one in the evening. He continued at Victoria School, obtaining his senior matriculation and went on to Camrose Normal School to become a school teacher. His first teaching position was at a rural school by the name of Castle, seven miles east of Fort Saskatchewan. Mr. Wagner taught thirty-two pupils from grades one to eight.
In 1917, William had received his First Class Professional Teaching Certificate (by the age of 18) and then came World War I at which time William left his school to train as a pilot in the Royal Flying Corps in eastern Canada.
After the war, he taught at another rural school near Daysland, Alberta. A principalship at Mannville School followed, where he taught thirty students from grades eight to twelve. In 1921 he received a principalship in Provost where he taught a class which included grades ten to twelve.In 1928 William and his family moved to Viking, Alberta where he continued to teach. In 1929 he attended summer school in Edmonton when the Superintendent of Schools, Mr. McKee, noticed that William Wagner was President of the Student's Union. McKee suggested that Wagner apply to the Edmonton staff. William Wagner taught math and biology at Strathcona High School.
World War II came and William joined the armed services in 1946 and while waiting to retire from the army, taught ex-servicemen and men preparing for their university entrance examinations.
William became Edmonton's first counselor, then Director of Secondary Schools, Assistant Superintendent, Deputy Superintendent and by 1955 he was appointed Superintendent of Edmonton Schools.
During the "Wagner" years, there was the largest percentage increase of pupils, teachers and schools ever recorded during the tenure of any previous Superintendent. Throughout the years William earned his Bachelor of Arts, Bachelor of Education and Masters Degree in Education from the University of Alberta. In 1982, the University of Alberta bestowed an Honorary Doctor of Laws degree to Wagner for his life-time dedication to his fellowman.
The retirement of William Phillip Wagner in 1964 brought about the construction of the school which sits beside the park and on the road both which were named after him. He died in 1986.
W. P. Wagner School has lived a double life since opening in 1969. It began as a trade school and changed to a school of science and technology in 1991.
Today the school boasts eight computer labs, ten science labs, two gyms and a greenhouse. Strong programs such as Science, Math, Social Studies, English, Fine Arts, Technology, International Languages and Sports make the 1500 plus students and staff happy to have made W. P. Wagner School their school.